In the pre-dawn twilight of Saturday 18th March, kayaks and paddlers could be seen on the water of Stratford-upon-Avon marina. What was going on? The infamous Stratford-upon-Avon to Cropredy relay, that's what.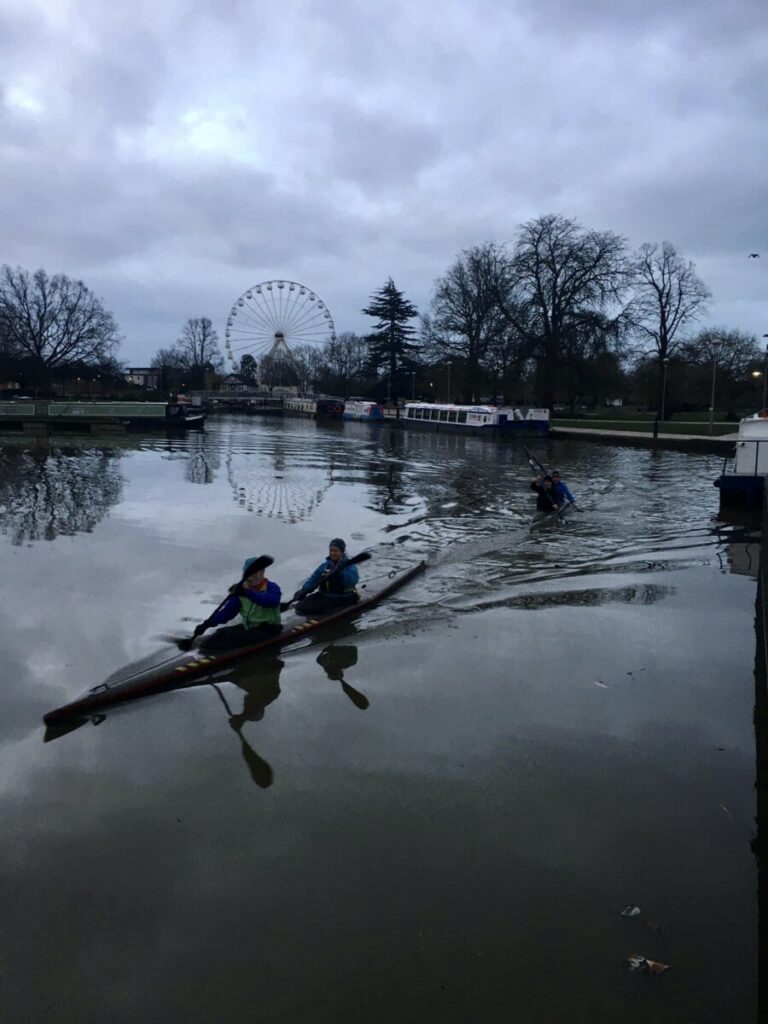 By road, the distance from Stratford-upon-Avon to Cropredy is a shade over 20 miles. By canal, it's somewhat longer, and with more obstacles to negotiate – 52 miles, 96 locks, 3 aqueducts and one tunnel and only 12 hours of daylight in which to cover it. A tough challenge for the relay teams and a far tougher one for the K2 crew of Becky and Craig who aimed to paddle the whole distance.
First away were Anna & Sally of Team MAGIC (Middle-Aged Girls in Cags), resplendent in their pink beanie hats, followed onto the water by Becky & Craig and Will & David of Team FOSSILS who both chose the same start time. The latest starters were Steve & Brian from Team Odds and Sods. Although the relay was not intended as a race, competitive instincts kicked in and the three relay teams were close together all of the way through.
There was an element of the tortoise and the hare: Team FOSSILS were fastest on the water but their tactic of doing lots of shorter legs backfired when a car shuttle took longer than expected and left Andy and Max waiting at Hatton Locks for forty minutes at the end of their leg before the cavalry arrived and they had to watch the two other teams, on longer leg strategies, pass by and disappear into the distance.
All three relay teams finished in daylight with junior pairing Robin and Lucy doing the tough final leg to bring Team Odds and Sods home.
Becky and Craig completed forty miles before they ran out of daylight: a hugely creditable effort.
A good day out was had by all and we are already looking forward to next year's challenge.