Banbury Marathon – Cancelled
Sadly we are unable to run our Hasler Race this year.
A Southern Region Hasler qualifying race on the Oxford Canal at Banbury with compulsory portages on all divisional races.  The portages are all relatively easy!
Booking in, parking and the finish line are at Castle Quay in Banbury town centre while the start is at the Hennef Way bridge 800 metres north.
More details can be found here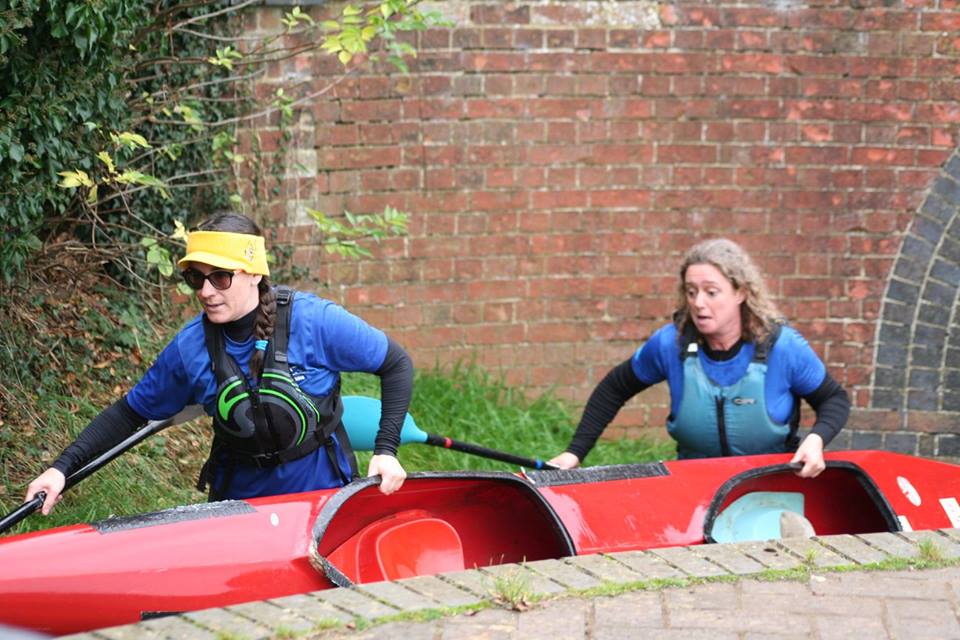 Ross Warland Memorial Canal Challenge
The race is held in memory of Ross Warland and other young people who did not have the opportunity to reach their full potential in life. Ross, who died of bone cancer in February 2000 at the age of 21, was an active and popular member who first joined the club when he was 8 years old. When no longer able to paddle he devoted his time to coaching and training the club members. His attitude and courage towards his illness was an inspiration to all those that met him.
Having had to run this race virtually in 2020, we are delighted to invite you back to Cropredy to race in person this year.  Details are below, and we look forward to seeing everyone back on the canal, and for the usual soup and cake afterwards!
More details can be found here.
Entries are via this link
Previous Results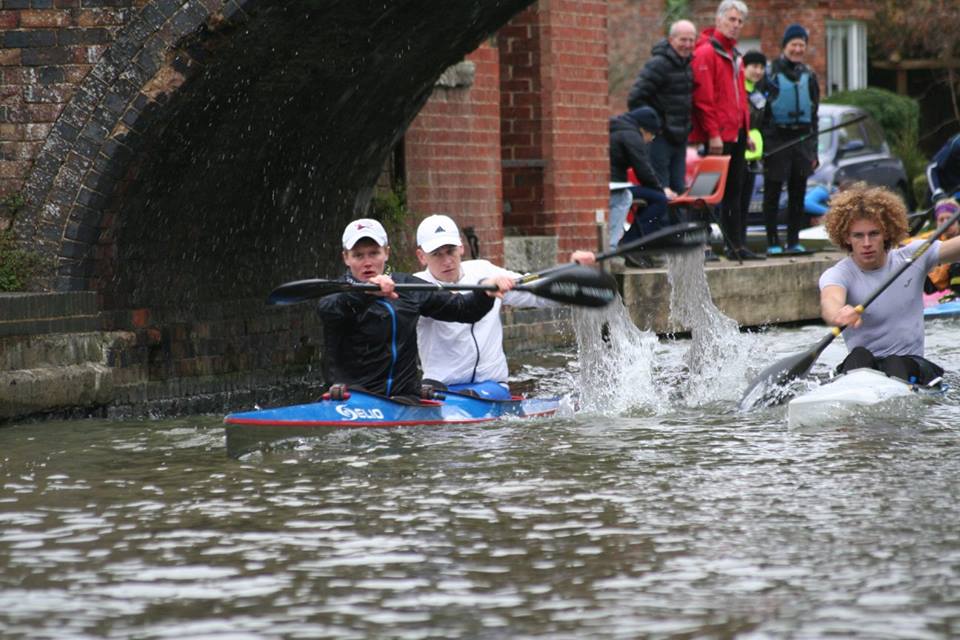 ROSS WARLAND

 

2021
Final Results
Category
20
No.
NAME
CLASS
CLUB
DIV
ELAPSED TIME
AVE SP
RACE
RACE POS'N
P/D
960
BENJAMIN CABRERA
JMK
FOY
2
02:45:30
7.21
K1

 

1
P1
929
LAURENCE PLANT
SMK
RDG
2
02:54:59
6.82
K1

 

2
 
933
HARRY FREELAND
JMK
RDG
2
02:59:34
6.65
K1

 

3
 
954
ALI KABEER
JMK
WOK
2
03:01:41
6.57
K1

 

4
 
956
SHAUN HARTE
SMK
BAN
2
03:06:14
6.41
K1

 

5
 
950
DANIEL GORST
SMK
SOU
3
03:07:17
6.37
K1

 

6
 
941
MARK WILKES
SMK
CLM
1
03:09:36
6.29
K1

 

7
 
955
MAGGIE DILAI
SFK
NOT
3
03:11:33
6.23
K1

 

8
 
938
JAMES TREADGOLD
VMK
NBY
3
03:16:05
6.09
K1

 

9
 
914
MICHAEL DACOMBE
SMK
SOL
4
03:16:08
6.08
K1

 

10
 
961
TOM DAWSON
SMK
FOX
3
03:16:38
6.07
K1

 

11
 
904
ANNA RAILTON
SFK
FOX
3
03:18:38
6.01
K1

 

12
 
958
THEO SALES
JMK
CAM
4
03:19:05
5.99
K1

 

13
 
944
DOM MURPHY
VMK
BAN
3
03:23:17
5.87
K1

 

14
 
939
WILLIAM LARNER
JMK
BAN
4
03:30:03
5.68
K1

 

15
 
911
BEN RUDDLE
VMK
CDF
5
03:32:14
5.62
K1

 

16
 
902
MARK BLATCHLY
VMK
NOT
4
03:33:24
5.59
K1

 

17
 
928
DENI PANEV
JMK
FOX
4
03:36:33
5.51
K1

 

18
 
912
TOM FLORY
SMK
FOX
4
03:36:34
5.51
K1

 

19
 
951
DUNCAN JACK
VMK
NOT
5
03:37:45
5.48
K1

 

20
 
936
THOMAS WALKER
SMK
NOR
3
03:41:03
5.40
K1

 

21
 
937
ANDREW JUDD
SMK
NOR
5
03:41:54
5.38
K1

 

22
 
908
STUART SHERMAN
VMK
CDF
4
03:46:43
5.26
K1

 

23
 
907
CHRISTOPHER SMOWTON
SMK
FOX
5
03:48:59
5.21
K1

 

24
 
918
ROBERT MCCALL
VMK
IND
9
03:52:51
5.13
K1

 

25
P6
920
STEVE PERRY
VMK
BAN
5
03:52:56
5.12
K1

 

26
 
919
JOSHUA PERRY
JMK
BAN
5
03:52:56
5.12
K1

 

27
 
924
MIKLOS SZABADVARI-JNR
JMK
RDG
4
03:54:15
5.09
K1

 

28
 
957
CHRIS JOHNSON
VMK
BAN
6
03:58:49
5.00
K1

 

29
 
926
ROGER TRITTON
VMK
FOX
6
03:59:36
4.98
K1

 

30
 
925
HERIBERT RAMROTH
VMK
FOX
5
03:59:48
4.98
K1

 

31
 
927
DAVE LONG
VMK
FOX
5
04:00:32
4.96
K1

 

32
 
945
GORDON BULLOCK
VMK
BAD
5
04:01:23
4.94
K1

 

33
 
943
BRIAN PHELAN
VMK
BAN
9
04:11:04
4.75
K1

 

34
P8
921
DAMON WHITE
VMC
RDG
8
04:18:52
4.61
CC1
35
 
922
STEPHEN BECK
VMK
BAN
6
04:23:54
4.52
K1

 

36
 
930
ANDREW PHILLIPS
SMK
BAN
7
04:26:31
4.48
K1

 

37
 
913
JOHN CRITCHFIELD
VMK
BAN
7
04:26:32
4.48
K1

 

38
 
932
JEREMY FREELAND
VMK
RDG
2
Retired
 
K1

 

 
 
931
KLARA JEPSON
JFK
FOX
3
Retired
 
K1

 

 
 
910
MARC GUTTERIDGE
VMK
LDN
4
Retired
 
K1

 

 
 
959
DAVID JAULT
VMK
BAN
4
Retired
 
K1

 

 
 
No.
NAME
CLASS
CLUB
DIV
ELAPSED TIME
AVE SP
RACE
RACE POS'N
RACE POS'N
819
NEIL MCARA
ROBERT JEFFERIES
VMK
SMK
BAN
BAN
3
2
03:03:29
6.50
K1 Relay
1
 
807
BETHAN DAVIES
AMBER OWEN
VFK
SFK
RDG
RDG
5
4
03:21:39
5.92
K1 Relay
2
 
818
HARRY SEWELL-CATCHPOLE
ADRIAN DAVIS
JMK
JMK
NOR
NOR
4
5
03:24:01
5.85
K1 Relay
3
 
815
ANDREW INGPEN
JACOB WRIGHT
VMK
JMK
RDG
RDG
5
5
03:28:50
5.71
K1 Relay
4
 
801
NICK HERBERT
CHRIS BATES
VMK
VMK
FOX
FOX
3
5
03:36:24
5.51
K1 Relay
5
 
813
FILIPPO DE ANGELIS
MAX CAMBPELL-REIDE
SMK
JMK
FOX
FOX
7
6
03:37:53
5.48
K1 Relay
6
 
817
DARREN MILES
ANDY FLACK
VMK
VMK
BAN
BAN
5
4
03:38:16
5.47
K1 Relay
7
 
810
AIDAN TEEUWEN
NIGEL FRANKLAND
JMK
VMK
LON
RDG
4
4
03:40:54
5.40
K1 Relay
8
 
805
STEFAN SENK
RUTH SHEPHARD
VMK
JFK
RDG
RDG
2
U14A
03:46:08
5.28
K1 Relay
9
 
812
IAN MCLEAN
CARL WARLAND
VMK
VMK
BAN
BAN
6
6
03:56:07
5.05
K1 Relay
10
 
808
CRAIG BATTISON
MARK LARGE
SMK
SMK
BAN
BAN
7
8
04:10:18
4.77
K1 Relay
11
 
804
RYAN TAYLOR
JAMES LYNN
JMK
JMK
BAN
BAN
6
8
04:27:44
4.46
K1 Relay
12
 
814
FIONA MACLEOD
SHIRLEY WATERHOUSE
VFK
VFK
BAN
BAN
7
8
04:52:32
4.08
K1 Relay
13
 
802
JACQUI SMITH
JENNY BALLINGER
VFK
VFK
BAN
BAN
8
9
05:07:32
3.88
K1 Relay
14
 
No.
NAME
CLASS
CLUB
DIV
ELAPSED TIME
AVE SP
RACE
RACE POS'N
RACE POS'N
737
CHARLIE SMITH
DANIEL JOHNSON
SMK
SMK
LBZ
CLM
1
1
02:23:55
8.29
K2
1
 
752
JAMES RUSSELL
TOM LUSTY
SMK
SMK
CLM
SOL
1
1
02:24:01
8.29
K2
2
 
710
PETER WILKES
WILLIAM STROUD
SMK
SMK
FOY
CLM
1
1
02:34:22
7.73
K2
3
 
732
TIM GANNICOTT-PORTER
JOE PETERSEN
SMK
SMK
CLM
BAN
1
1
02:38:47
7.52
K2
4
 
713
MATT COLLINGE
GEORGE BROOKS
SMK
JMK
FOY
WOR
1
3
02:48:56
7.06
K2
5
 
753
ALEX GREAVES
SAM CRIBBETT
SMK
JMK
RLS
RLS
2
3
02:51:40
6.95
K2
6
 
718
ELLIE MCCLOY
MATHEW ROWLANDS
SFK
SMK
CDF
CDF
5
2
02:56:54
6.75
K2
7
P4

724
MARK WEVILL
NACHO FABRE
VMK
VMK
SOL
INT
4
3
03:07:24
6.37
K2
8
 
731
ABIGAIL BURGESS
KATIE BROOKES
SFK
SFK
WEY
EXE
4
3
03:09:18
6.30
K2
9
 
721
ROSEMARY EDWARDS
DREW HOWELLS
JFK
JMK
CDF
CDF
5
5
03:15:55
6.09
K2
10
 
740
LOUIS JACQ
IMOGEN HUNTER
JMK
JFK
CAM
CAM
4
4
03:18:55
6.00
K2
11
 
739
MATT WESTALL
RICHARD WINSTANLEY
VMK
VMK
PAN
BSF
3
3
03:22:30
5.89
K2
12
 
729
CATHERINE DRUMMOND
DERIKA HUTCHINSON
VFK
VFK
RDG
RDG
5
5
03:24:25
5.84
K2
13
 
722
HARRIET HICKS
ALBERT HICKS
SFK
SMK
NOR
NOR
5
1
03:29:37
5.69
K2
14
 
709
NEIL URQUHART
WILL HARTE
VMK
VMK
BAN
BAN
6
4
03:30:19
5.67
K2
15
 
703
SARAH VERNAU
JUSTINE JENKINS
VFK
VFK
NOT
NOT
8
5
03:31:50
5.63
K2
16
 
727
ELENA GOLDER
DANIEL GOLDER
VFK
VMK
EXE
BAN
5
2
03:32:36
5.61
K2
17
 
736
STEVEN GRAHAM
SIMON DERHAM
VMK
VMK
IND
RUN
6
4
03:32:37
5.61
K2
18
 
708
KATY DIXON
CHARLOTTE ELLIS
JFK
SFK
LBZ
LBZ
4
5
03:36:04
5.52
K2
19
 
728
ROBERT DEVEREUX WHITEHEAD
PAUL JACKSON
VMK
VMK
NBY
NBY
5
5
03:36:37
5.51
K2
20
 
711
GEORGIA FENWICK
TILLA KUBISCH-WILES
SFK
JFK
RDG
RDG
5
5
03:39:57
5.43
K2
21
 
701
GRAHAM RAYMOND
IAN THELWELL
VMK
VMK
BOA
BOA
4
4
03:42:23
5.37
K2
22
 
706
BARBARA OLEKSY
GRZEGORZ OLEKSY
VFKV
MK
BAN
BAN
9
7
03:51:45
5.15
K2
23
P8

717
JOOST VAN DIJCK
VICKY METCALFE
VMC
VFC
PAN
PAN
9
9
03:52:37
5.13
CC2
24
P8
P8
730
DAVID NEWHOUSE
MARK SCRIVENER
VMK
VMK
FOX
FOX
8
5
03:57:14
5.03
K2
25
 
751
ALISON LIMENTANI
MIHA RENKO
SFK
VMK
CAM
CAM
7
6
03:57:32
5.02
K2
26
 
714
LEE DEAN
CHRIS HILLS
SMC
VMC
BAN
BAN
7
9
03:57:40
5.02
CC2
27
 
738
FAY BUTLER
CAROLINE WALKER
VFK
VFK
PAN
PAN
6
6
03:58:40
5.00
K2
28
 
754
OSCAR TODD
ROSIE COLLINS
SMK
SFK
FOX
FOX
6
8
03:59:39
4.98
K2
29
 
705
TRISTAN KAWALEK
JONNY WOODS
SMK
SMK
SOL
SOL
8
8
04:03:34
4.90
K2
30
 
720
SIMON HANGER
JULIE WOOD
VMK
VFK
BAN
BAN
5
5
04:05:39
4.86
K2
31
 
735
MALCOLM GILKS
PAUL SMITH
VMK
VMK
BAN
BAN
7
7
04:12:32
4.73
K2
32
 
733
DAVID CAWTHORNE
JONATHAN CRABB
VMK
VMK
PAN
PAN
9
9
04:13:14
4.71
K2
33
 
715
KIRSTEN SUENSON
IRENE HILLS
VFC
VFC
BAN
BAN
9
9
05:07:20
3.88
CC2
34
 
734
JAMIE LOVELL
WILLIAM SCAPLEHORN
JMK
JMK
DEV
DEV
5
4
Retired
 
K2
 
 
No.
NAME
CLASS
CLUB
DIV
ELAPSED TIME
AVE SP
RACE
RACE POS'N
RACE POS'N
617
LEO TURNELL-RITSON
THOMAS MOSELEY
RACHAEL JEFFRIES
CHRISTOPHER CARSON
SMK
JMK
SFK
SMK
SOL
SOL
SOL
WEY
2
3
5
2
02:44:53
7.24
K2 Relay
1
 
615
CORMAC TIETEMA
CHARLIE BEESON
MOLLIE BALL
ANNABEL HUTCHINSON
JMK
JMK
JFK
JFK
RDG
RDG
DEV
RDG
4
3
4
4
03:06:18
6.41
K2 Relay
2
 
609
TOM MABLESON
TIM SCOTT
ESTELLE WIDDOWS
OLLIE RIX
JMK
VMK
JFK
SMK
CAM
NOR
NOR
NOR
5
4
6
2
03:14:32
6.13
K2 Relay
3
 
602
SOPHIE LONG
JESSICA LONG
HERMANUS HENNING
NICK BARNETT
SFK
SFK
SMK
VMK
FOX
FOX
FOX
FOX
5
5
5
4
03:17:59
6.03
K2 Relay
4
 
605
ALICE BEESON
TYLER KINDER
JAN RACIBORSKI
KEVIN SMITH
JFK
JMK
VMK
VMK
RDG
RDG
RDG
RDG
6
6
4
3
03:21:21
5.93
K2 Relay
5
 
601
KIET LUC
KOEN AYRAN
NORA JEPSON
CATHERINE LONG
JMK
JMK
JFK
JFK
FOX
FOX
FOX
FOX
5
3
5
5
03:25:52
5.80
K2 Relay
6
 
614
HOLLIE JACKSON
FRANKIE SCRIVENER
MILES FLORY
DEBBIE HUNTER
SFK
JFK
VMK
VFK
FOX
FOX
FOX
FOX
5
7
8
8
03:47:01
5.26
K2 Relay
7
 
613
LUCA BECKMAYER
OTTILIE CAMPBELL-REIDE
SAM DICKSON
CHARLIE DICKSON
JMK
JFK
JMK
SFK
FOX
FOX
FOX
FOX
9
9
7
5
03:58:06
5.01
K2 Relay
8
 
612
DANIEL KROMER
OLIVER REED
SAM SPARKS
AERON MURPHY
JMK
JMK
JMK
JMK
RLS
RLS
RLS
RLS
8
9
6
7
04:00:24
4.96
K2 Relay
9
 
604
NEVILLE DAVIES
JULIAN KNIGHT
ANDY SOLWAY
BOB EDMOND-SEAL
VMK
VFK
VMK
VMK
FOX
FOX
FOX
FOX
7
6
5
4
04:07:17
4.83
K2 Relay
10
 
616
KARRAN SPEAKMAN
JAMES SPEAKMAN
RICHARD WALKER
AMY TROWER
SFK
SMK
VMK
SFK
TAM
TAM
TAM
TAM
9
7
5
7
04:26:55
4.47
K2 Relay
11
 
611
CHARLIE FROST
JO DAVIS
STEVEN MCAULAY
STEVE MABLESON
SFK
SFK
VMK
VMK
NOR
NOR
NOR
CAM
8
8
9
7
04:30:48
4.41
K2 Relay
12
 
<![if supportMisalignedColumns]> <![endif]>